House for rent in Mexico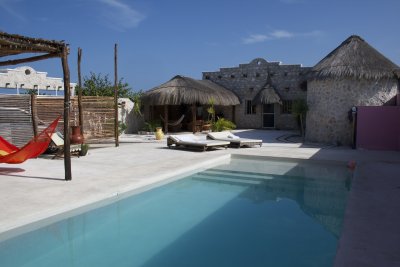 Do you want to spend your holiday in a house on the beach with miles of sandy beach, turquoise sea, palm trees and exotic birds?
In that case you are welcome to rent our house "Casa de Piedra" in Mexico, Chuburna located on the Yucatan Peninsula.
 
Chuburna
- is a small and quiet fishing village situated at the Gulf of Mexico. There are small shops to buy the essentials in and some restaurants serving fresh seafood, grilled chicken and more. There are two small churches and a school.
Our house - Casa de Piedra
- is privately situated right at the beach with breathtaking views of the Gulf of Mexico where you can sometimes see wild dolphins playing.
We have recently renovated the house both inside and out in authentic Mexican style and instaled AC.
The house has a beatuful large, well equipped kitchen with dining area for 12 people, 3 spacious bedrooms, 3 bathrooms, one with large doubble shower, and a living room with two potential sleepers.
Outside there is a lovely pool area with plenty of space for socializing, both in the sun and in the shade. Completely private. There are wide sun beds, beach chairs and hammocks to relax in. Outside the kitchen there is a terrace with roof. Here you can have breakfast and watch the fishing boats return from their tours. Or sit and watch a spectacular sunset in the Gulf.
If you get tired of lying by the pool, in a hammock or looking at the view there ocean is about 10 steps away ... To take a stroll along the sea and pick the most amazing shells are part of everyday life here in Chuburna. If you get hungry it is a good idea to pop in to one of the small restaurants or stop by "the chicken lady" who grills the most amazing chickens up at the square.
 
In Yucatan
- is the crimilality very low, Merida has not had a drug-related murder for more than 10 years. People are very friendly and speak Spanish, few speak English. Possible hurricane season with lots of rain can appear in August/September.
Chuburna and the neighboring village CHELEM has many small fish restaurants where it is cheap to eat. A meal consisting of fresh fish or seafood and a beer do not cost more than 60 pesos per person. For those who want to cook at home, there are well-stocked supermarkets in Progresso and Merida where you can find everything you need. In Progresso, about 15 minutes by car from the house is the closest and there are two Walmart on the way to Merida about 20 minutes away by car. Shuttle to Progreso run regularly from all the small villages along the coast.
Welcome to rent our house in Mexico, Casa de Piedra